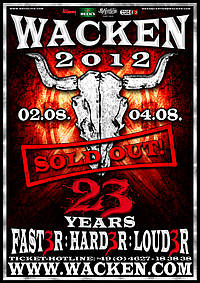 Noch dreimal duschen dann ist Wacken! In genau 87 Tagen geht es los! Die Wilden fallen wieder über das kleine Dorf Wacken her! Die Metaller kommen "nach Hause" und verbringen mal wieder unvergessliche Tage im schönen Schleswig-Holstein.
In dem kleinen beschaulichen Dorf findet jetzt schon seit 23 Jahren das W:O:A statt. Es ist inzwischen das größte Metal Festival der Welt, hat schon lange Kultstatus erreicht. Es  ist nunmehr seit sieben Jahren in Folge ausverkauft und es ist noch keine Besserung zu sehen. Bauer Trede kann nun mal auch keinen Platz aus dem Kordhut zaubern.
Die Bands sind dieses Jahr mal wieder die Creme della Creme der Metal Szene:
Agro, Amaranthe, Amon Amarth, Aura Noir, Axel Rudi Pell, Blaas of Glory, Broilers, BugGirl, Channel Zero, Chthonic, Circle II Circle, Coroner, Cradle of Filth, Crimes of Passion, D-A-D, Danko Jones (Spoken Word), Dark Funeral, Darkest Hour, Dead by April, Decapitated, Delain, Dimmu Borgir, Dio Disciples, Djerv, DRI, Dødheimsgard, Electric Wizard, Eisenherz, Endstille, Eschenbach, Forbidden, Gamma Ray, Gehenna, Ghost Brigade, Graveyard, Hammercult, HammerFall, Henry Rollins (Spoken Word), In Extremo, In Flames, Insomnium, Kamelot, Kylesa, Leaves' Eyes, Leningrad Cowboys, Machine Head, Manimals, Manticora, Massacre, Megaherz, Ministry, Mono Inc., Moonspell, Napalm Death, Nasum, Oomph!, Opeth, OverKill, Paradise Lost, Red Fang, Riotgod, Russkaja, Sacred Reich, Sanctuary, Saor Patrol, Saturnian, Saxon, Schandmaul, Scorpions, Sepultura, Sick Of It All, Six Feet Under, Suicide Silence, Sylosis, Testament, The Black Dahlia Murder, The BossHoss, Torfrock, U.D.O., Unearth, Victims of Madness, Vogelfrey, Volbeat, Volxrock, Warbringer, Warrior Soul, Watain, We Butter the Bread with Butter, Winterfylleth, Wölli und die Band des Jahres
Besonders freuen wir uns auf folgende Bands:
Amon Amarth
Cradle of Filth
Dark Funeral
Dimmu Borgir
Endstille
In Extremo
Insomnium
Leaves' Eyes
Moonspell
Opeth
Schandmaul
The Black Dahlia Murder
Vogelfrey
Watain
Falls wir uns noch eine Karte schießen können, dann werden wir live von Wacken berichten! Sollten wir noch einen Fotopass bekommen, werden wir euch natürlich wieder mit den besten Bildern versorgen!
Kommentare